MPS01 Multi-Purpose Power Supply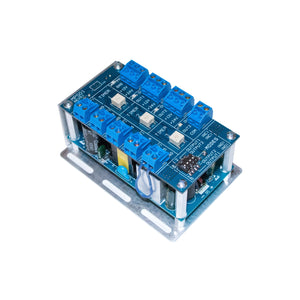 For a quote, please email us at sales@bordtek.com
Documentation
User Manual
The MPS01 power supply is design to power electric locks for applications such as access and automatic doors. This MPS01 is powered by a 85-240 VAC source (Max 100W).
The power supply can be used to power 12 VDC and/or 24 VDC loads up to 4 Amps (Ex: Electric exit devices, electric strikes and/or maglocks).
The MPS01 power supply provides logic functionalities such as lock/operator sequencer and accessible washroom control.

Here are some of the benefits;
- Small - Fits in automatic door operator enclosures
- Powerful - Can drive constant 12 VDC and/or 24VDC loads up to 4A
- Logic onboard - Lock/operator sequencer, handicap washroom control
- Short circuit protected - (no fuse to replace)
- Plug-in terminal blocks - All connectors can be unplugged without removing wires
- Solid state output (No mechanical relays)
- Fire alarm input
- Simple to use